Form 990 Webinars
Eve's two flagship live/taped Form 990 courses (of 16 CPE credits) that had been available under licensure to AICPA through 2019 – 2020 were reconfigured to 14 webinars (totaling 33 CPE credits) in 2020 and have been further refined and polished for the 2021-2022 CPE season! All are available on a monthly broadcast schedule – the first ten comprise a "990 Foundational Series" that comprehensively address all key Form 990 preparation demands. The Foundational sessions will elevate novices through early-intermediate practitioners to true "990 ninja" status. The additional four webinars are "Master Classes", covering the complexities that arise in reporting compensation and in three Schedules-specific arenas: public support testing, finding related organizations, and reporting "insider transactions".
The table below provides cursory information on each of the webinars, and full course descriptions are included in the package available here: Borenstein 2021 990 Webinars.
Broadcast dates for each upcoming webinar are available at: https://bit.ly/2VLCECu. Please note that the webinars' NASBA provider, CPA Crossings, partners with many State CPA societies; thus, if you wish to utilize a Society's partner-discount and/or CPE-reporting you should register using the Society's code. For all others, please note the link above brings up the courses with my partner code already in place and a discounted rate will thus be presented at checkout using that code.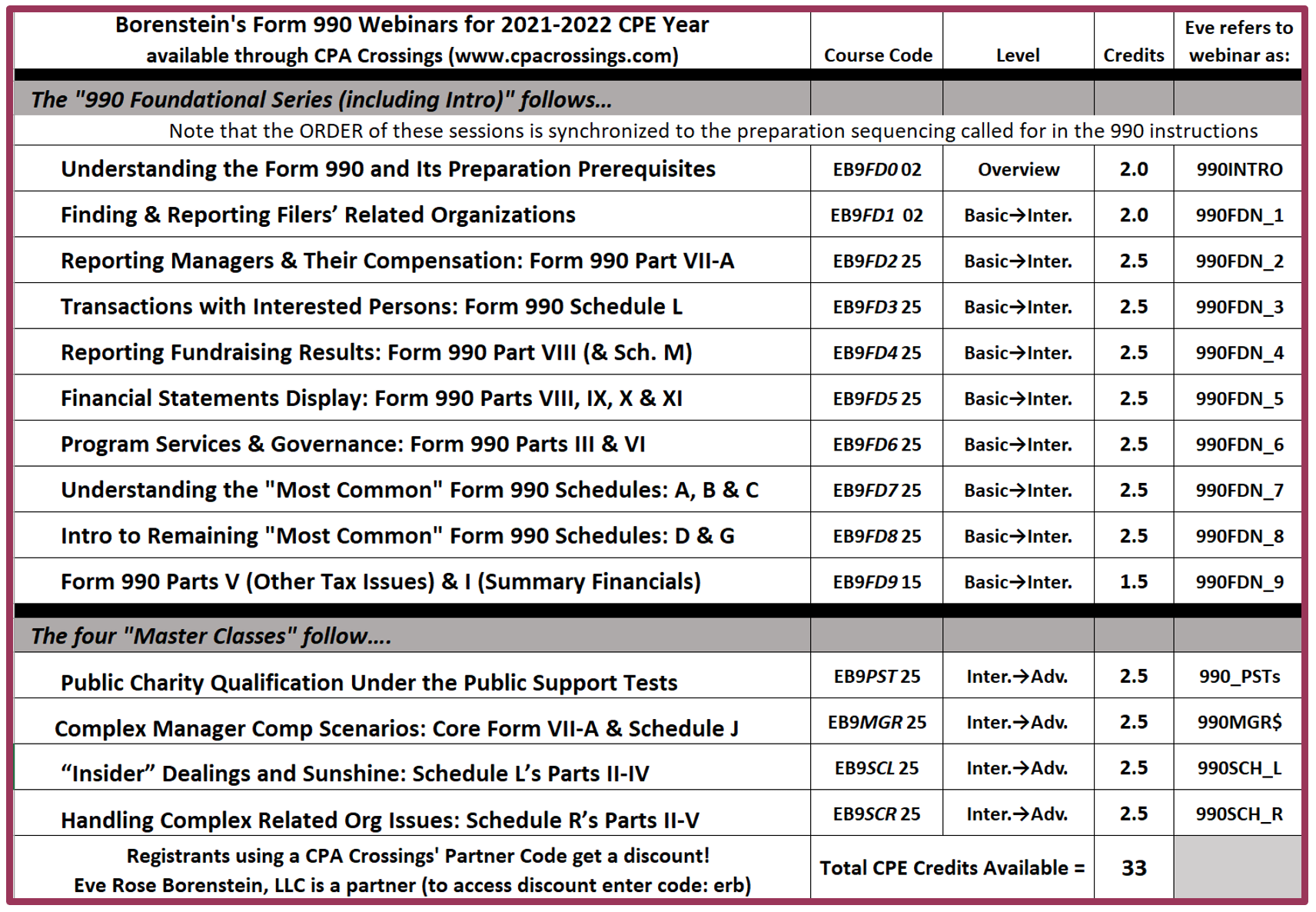 Upcoming Presentations
MNCPA Not-for-Profit Conference
October 19, 2021 — Online
Further information is available at: https://www.mncpa.org/cpe/conferences/registration/21cf-nfpx/
Eve's Two Sessions:
2:10 - 3:25 pm (Central) Law of Unintended Consequences: What Folks Look for When They Read Your 990
3:40 - 4:30 pm (Central) UBIT "Silo" Rules: The Now Known Mechanics
Miscellany
The TEGE Exempt Organizations Council (the "EO Council") promotes open and ongoing lines of communications between the practitioner community AND the IRS' TEGE Operating Division's Exempt Organizations (EO) leaders as well as with IRS Chief Counsel (EEE) and Treasury Department's officials. Membership is free and is open to attorneys, CPAs, paralegals, and others advising the nonprofit sector. The longstanding chief mode by which information exchange occurs are the EO Council's thrice/year "Exempt Organizations Update" sessions. These session rely in large part, on queries submitted by members. 2021 will see other platforms ushered in by which members can share information and tips as to current challenges in the sector's intersection with the IRS.
PLEASE join the EO Council and put the next EO Update on your calendar – November 19, 2021!
Further information on the Council (check back frequently for updates, please) can be found at: https://www.eocouncil.org/